Temporary storage space may be an ideal solution for your business's storage needs.
Are you thinking of moving or renovating your office? You will require a safe and secure place to keep your items. Renting a temporary storage unit is the ideal answer for you. Here are the benefits of short-term or temporary storage facilities, you should consider before renting them for your company: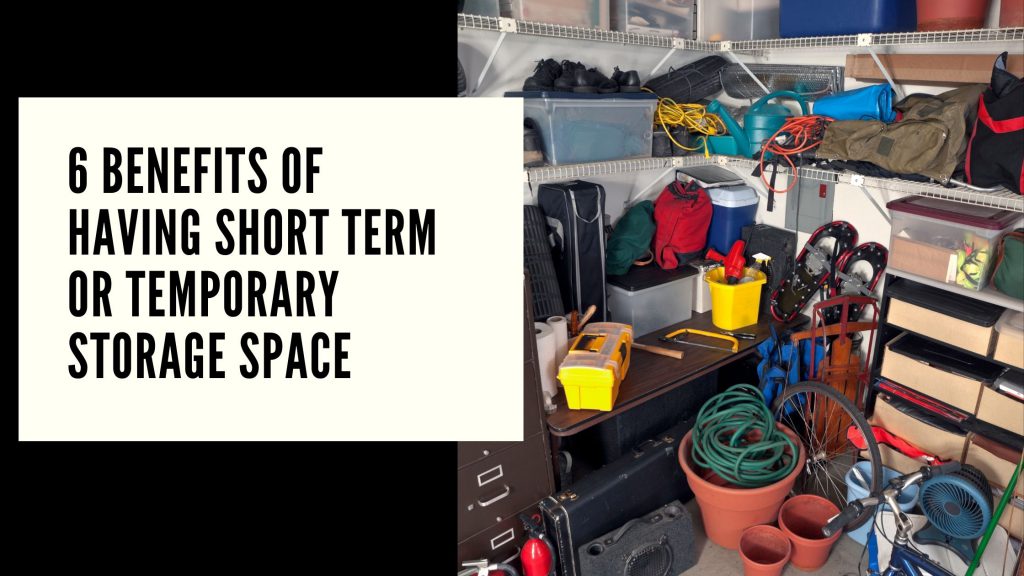 Easily Accessible:
The temporary storage spaces in Singapore are easily accessible as these spaces are centrally located. Most of these are situated near MRT stations and bus stops so that people can travel to them through public transportation. They also offer ample parking space for those who prefer to travel by private vehicle. It is ideal for start-ups and small e-commerce businesses.
Some of the storage spaces allow 24/7 access while others have restricted access. Make sure that the temporary storage space that you are going to rent allows 24/7 access if you need it.
Numerous Amenities:
Another benefit of having short-term storage space is that it provides various amenities and facilities. You can select the size of storage unit you need as per your requirements (100-300 sqft). These storage spaces are mostly furnished with aircon, lights, and power sockets. Most of these storage facilities are 24/7 accessible. To minimize damage to your possessions, units are frequently climate-controlled, equipped with security cameras, and well-lit to prevent theft and burglary. High ceilings, computer-controlled access, monitored fire systems, and sprinkler systems are all possible characteristics. 
Guaranteed Safety and Security:
The safety and security of your furniture, equipment, and other items are their top priority. To protect your things, temporary storage space in Singapore has 24/7 CCTV surveillance, security guards, access passwords, and alarms. Before renting a storage unit, make sure that it is fully secured. 
Temporary Storage Space Offers Flexibility:
The advantage of temporary storage is that it provides flexibility in storing items. You may hire storage space for short-term or long-term periods. You can select the storage unit size you need. You are required to pay for the space you rent. You can store your items in temporary storage, which allows you a more flexible timeline.
There is various temporary storage space in Singapore that offers storage space on a monthly lease. Also, it allows you to extend your contract if you require. There are many storage facilities that rent extra space, Ang Mo Kio, for the short-term. If you don't plan to keep a lot of things, you can also rent smaller units for storage. 
Affordable Storage Solutions:
Temporary or short-term storage facilities are more affordable and cost-effective as you are not locked into a long-term commitment. When renting a temporary storage space, you won't have to worry about hidden charges. Storage unit rental includes facilities fees, utilities, and GST. If you have any confusion regarding the terms, clear them before signing the lease agreement. Otherwise, there may be problems for you as well as the storage facility owner.
Your company's growth and development require the need for extra office space. Taking a storage space on rent to store essential and non-essential office items is more cost-effective than renting a bigger office space.
Many firms have moved to work-from-home arrangements in the post-pandemic period. In this case, the ideal answer is that one should hire a storage unit in Singapore. Storing all of your office's furniture, equipment, and other items there until your office becomes operational again would be a more cost-effective decision.
More working space:
Renting temporary storage space in Singapore may be highly beneficial. More room space is generated in your workplace when you declutter it by storing your unneeded printers, outdated furniture, and other stuff to a storage facility. This additional space is especially beneficial during this post-pandemic time. It provides extra space to your staff to exercise social distancing and follow all covid preventive measures.
Keeping your office equipment, such as your printer, copier, and other goods, in a storage capacity also helps to maintain a clean and tidy appearance. This, in turn, will create a peaceful and positive atmosphere for your staff They will become more energetic and productive. Also, it will create a positive impression on your clients and visitors.
Final Thought:
The above points prove that temporary storage space in Singapore is very helpful for small businesses, start-ups, and entrepreneurs. Extra storage spaces always help in improving your business operations – particularly during expansion or renovation. You are not required to enter into long-term commitments and you may rent storage for one month or as long as you require. You do not need to take stress about the safety and security of your belongings. Simply consolidate your items and have them stored in a storage space of a suitable size.

Admin of DigiTech Worlds. Only fresh and unique content posts are allowed. Love to share informative, engaging, and helpful content with users. For more info please visit the contact us page.