Where are you in the pursuit of your global ed dreams? Are your overriding concerns about safety proving to be a road-block?
We understand that while the early fears of the pandemic and the impositions put down by the lockdown have relaxed.
There are still a lot of uncertainties surrounding studying abroad amid these testing times.
To help you make an informed decision in a safe environment. We at TC Global is bringing to you, our second edition of the Virtual Global Ed Interact.
The virtual GEI is scheduled to come to Bangalore, Chennai, Mangalore, Coimbatore on the 27th Nov from 3:00 pm to 7:00 pm IST.
Get all your queries about safety measures, program details, study options, and many more answered by delegates and faculty from top global universities from the comfort of your home.
The free virtual Global education fair 2020 will have all the features of the past GEIs and the added bonus is the chance to avail all these opportunities and possibilities without having to take a step out of your door: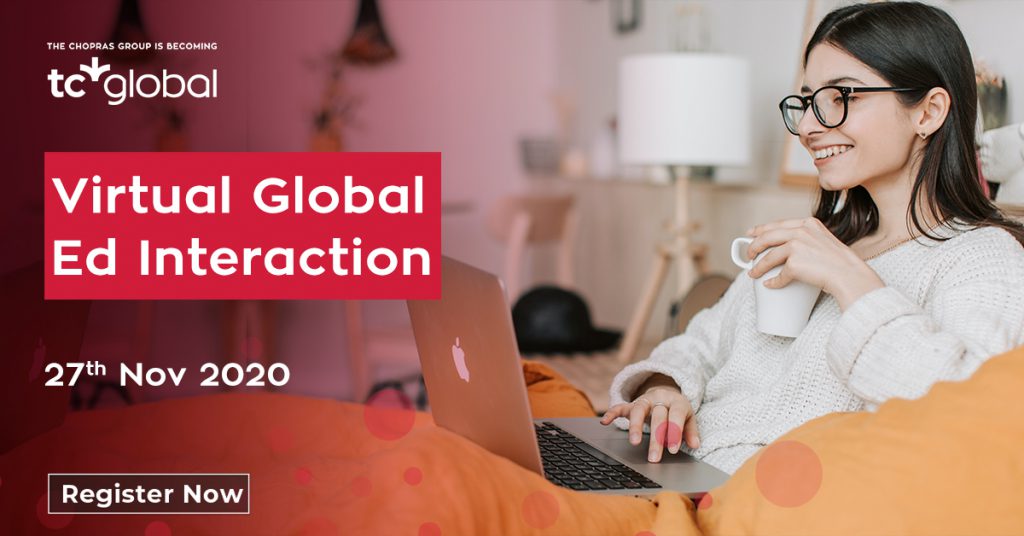 One on One Interaction:
Get the chance to interact one on one with faculty and delegates from top global universities.
Universities from popular global ed destinations like the UK, Australia, Singapore, Ireland, Germany, Dubai, and more will be participating in the Virtual GEI!
Benefit from our Learning Zone: Get access to our learning zone that includes Behavioural Assessments, Test Prep, and English Language Prep and benefit from it.
Spot Offers and More:
Students will have the chance to avail of a host of exclusive offers such as spot offers, application fee waivers, scholarships, English Language waivers, and more at the virtual GEI!
Get answers and make informed decisions:
Get relevant information and answers on all your doubts ranging from program details, the status of (upcoming) intakes, study options, to Post-study Work options, and more!
Attend Exclusive sessions:
Attend sessions that are aimed to help you get a better idea of the new normal such as Masterclass by professionals.
Get the chance to also interact with current students and alumnus.
Q&A session with our experts anything you'd liked to know about global ed.
The virtual GEI at Bangalore, Chennai, Mangalore, and Coimbatore will be participated by reputed Universities, namely – Loughborough University.
The University of South Wales, University of Stirling, Kingston University London, among others.
Related
Prepare yourself early and get all the event updates by signing up for the Virtual GEI. The Biggest Global Education Virtual Fair 2020, on our GEI website, and book a slot for yourself.
You can also fast track your way directly to University desks. You choose programs you are eligible for and interested in! Hurry now and get on board with the TC Global as we lead you through your journey
Vikas Sudan is the SEO Manager at whisskers marketing, an United States digital marketing agency. An expert in Digital Marketing and Blogging, He never misses an opportunity to spread the knowledge and share the industry's best practices. Vikas Sudan is present on social media like Facebook, Instagram, LinkedIn, Pinterest & Twitter also.