Many business owners are inclining toward mobile app development after seeing the excessive growth of the enterprise mobility market. The presence of mobile applications helps businesses to deliver their products or solutions to a large audience in one go.
In 2026, the total app revenue is expected to reach $641.13 million, as per Statista. Thus, investing in mobile app development is worth considering.
Businesses avail of mobile app consulting services to get pre and post-development strategic ideas for a successful app.
This blog post discusses the top 7 benefits of mobile app consulting services.
What Is Mobile App Consultation?
Mobile app consulting is a service offered by a mobile app development company. The main agenda of availing of mobile app consultation services is to help business owners broaden their app ideas by conducting comprehensive market research. They create a strategic roadmap for businesses to stay competitive.
7 Benefits of Hiring Mobile App Consulting Services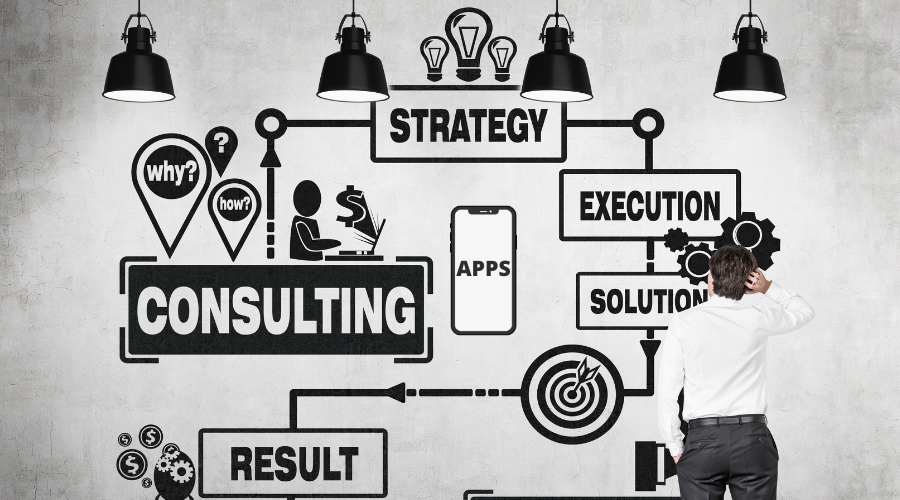 1. Creating a Mobile Strategy
Creating a mobile strategy is mandatory to get a successful mobile app for your business. Mobile app consultants know how to make app development strategies based on the client's business requirements and transform the app idea into reality.
Mobile app consultants are aware of emerging trends and prepare an end-to-end mobility solution. They ideate and strategize the mobile app architecture helping businesses to achieve success. App consultants can also suggest the right platform pick to business owners based on their app requirements.
2. Discovery
Discovery is another benefit of app consultation services that helps in collecting important data based on market trends. Before developing the app, mobile app consultants conceptualize the entire app development process for better business growth.
The app consultants ensure impactful business results as they comprehend the existing app's capabilities and limitations.
During the discovery phase, app consultants assess all the adverse effects that might hamper the mobile application post-development stage.
3. Competitor Analysis
Competitor analysis is a crucial part of the process through which the app consultants highlight the unique features businesses can add to their apps to stay competitive.
With the help of competitor analysis, mobile app consultants understand the competitor's marketing strategies to get customers on board. Competitor analysis helps establish a brand benchmark, uncover potential threats, and more.
In short, the competitor analysis performed by an app consultant helps understand and apply the insights of the competitor's app and identify their strong and vulnerable points.
4. Minimum Viable Product
The primary goal of a minimum viable product (or MVP) is to reduce the time and effort invested while checking the app's stability in the market before building the actual app solution.
The MVP approach focuses on the app's core functionalities, provides vision clarity, a better understanding of the targeted users, a clear user interface (UI), etc.
Likewise, app consultants present the app's prior vision helping business owners to follow the right track to keep the app hit in the long run. They consult business owners regarding the options to pick between a minimum viable product or a full-fledged app.
The app consultants help the business owners to save time, costs, and resources via the MVP approach.
5. Go To Market Strategy
App consultants stay updated with the latest technology and have hands-on experience in suitable tools for targeting the right set of audiences. They follow a proper GTM strategy that includes product-market fit, targeted audience, competition and demand, and distribution.
Mobile app consultants know how to keep the users engaged with the app and introduce new techniques for the same purpose—for instance, sending push notifications, loyalty programs, referrals, etc. They also create certain strategies for app reinstallation for several users.
6. App Monetization
Mobile app consultants create effective app monetization strategies to complement the business models accurately.
They employ cutting-edge tools and techniques to study the business's competitors and implement a profitable app monetization strategy to get higher revenue with an excellent user experience.
App consultants conduct rigorous research and know which model will work for the app, like in-app purchases, advertising, etc.
7. Support and Maintenance
If you want to keep your app up and running in the App Store or Play Store, you have to keep the app updated. After launching mobile applications, app consultants may provide you with support and maintenance.
They will help you address the issues faced by users with a quick solution and improve the existing features and app services for a better user experience.
Final Thoughts
App consultants have years of experience rectifying loopholes that need to be avoided, ideal app development strategy, resources for app development, and more.
If you want a high-end mobile app for your business, you can hire a mobile app consulting company for better business growth.

The mobile app consulting services guide at every stage, be it devising a market strategy, competitor analysis, app marketing strategies, and more.
Guest Blogger. Digital Marketing Specialist. 8+ years of experience in SEO, SMO/SMM, PPC, ORM, and YouTube.