In recent years, it seemed that nail design was losing ground and a monochromatic coating was entering the forefront. However, in 2020, the trend for minimalism quite peacefully coexists with design. Let's see what kind of nail décor will be in vogue in the coming year.
Modern manicurists have a wide arsenal of techniques. When choosing a nail design, the eyes run up – and it can be very difficult to stop at one option. To help you decide, we've put together a detailed guide to the hottest nail design ideas 2020.
Nail design with varnish
Despite the popularity of long-lasting manicure coatings, some women remain loyal to regular nail polish. It injures the nail plate less without causing dehydration and fragility. Nail design with varnish allows you to create, although short-lived, but very attractive beauty. Fickle natures, who quickly get bored with the same manicure, can heartily experiment with patterns on their nails.
Nail design with varnish should be fairly simple and concise. Since the coating dries quickly and is almost impossible to fix, it is better to refuse intricate patterns. We provide several options for nail polish design that can be repeated even at home.
Stylish solution – nail polish in the form of polka dots. This pattern never goes out of style. Today, clothes and accessories with a polka dot print can be seen on the catwalk, and makeup artists, inspired by them, create unusual makeup. To design your nails with polka dot polka, you will need round-ended sticks (dots). They can be replaced with hairpins or toothpicks.
In the same technique, it is easy to draw any flowers. To do this, simply place several colored dots side by side, combining them into stylized buds. Thus, you can create branches of lilac or mimosa.
The winter theme will be supported by a beautiful nail design with "snow" patterns. Decorate your design with glitter or rhinestones for a dramatic result.
An elegant "moon" manicure can be created using a stencil. Apply base polish to your nails, then attach the stencil and paint over the hole at the base with a different color.
Special tape for nail art will help you get a beautiful geometric nail design. Strict lines can be positioned as desired, forming both laconic forms and more complex compositions. This nail polish design will even fit into the office dress code.
Gel nail design
The emergence of gel polish literally turned the beauty industry upside down. Thanks to him, the manicure lasts up to four weeks. Gel polish dries only after being placed in an ultraviolet lamp, which means that gel nail design can be of any complexity. The patterns will not dry out ahead of time, and the nail art master gets unlimited possibilities for creativity.
Gel nail design will stay with you for a long time, so we advise you to carefully consider the choice of the pattern. In 2020, both simple nail designs and a more extravagant design of the nail plate are in trend. Girls with any taste and temperament can find the perfect option for themselves. We will tell you about trends in manicure and new nail designs in 2020.
Design for short nails
If earlier it was believed that short nails do not allow you to experiment with design, then today you can afford a lot! As a rule, minimalistic designs, such as lines or color blocking, look best on such nails.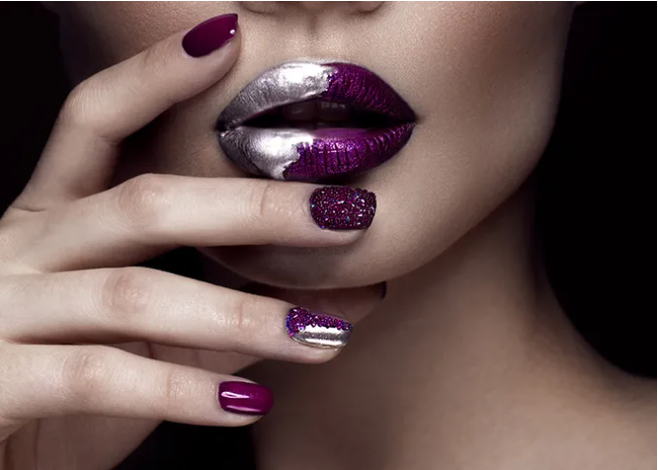 Shiny and metallic designs on short nails are trending in 2020. Choose "precious" finishes with a golden, bronze or platinum glow. All kinds of rubbing for manicure will help to achieve this effect. The design looks stylish, in which several nails are highlighted in a contrasting shade.
Read more
Design for long nails
Long nails have long been consigned to oblivion and were considered a sign of bad taste. But not so long ago, they recovered their reputation. Daring hip-hop aesthetics and extravagant style of celebrities such as Rihanna, Beyonce and Lady Gaga played a significant role in this.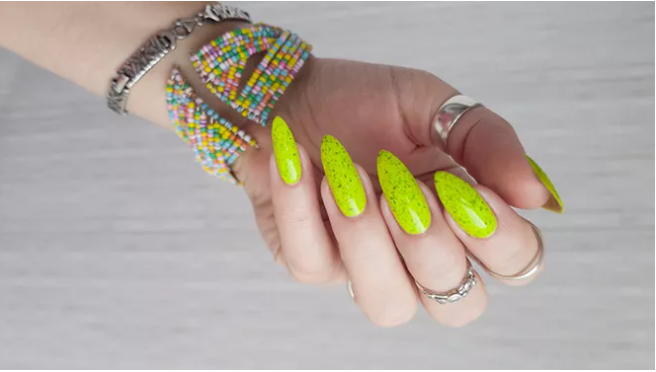 When creating designs on long nails, you are completely unlimited in your choice. The large area of ​​the nail plate allows you to experiment with any nail art. We have put together a guide for you on the most relevant nail designs in 2020.
Nail design shape
Two integral parts of a manicure are the design and shape of the nails. They like yin and yang complement each other, enhancing the overall effect. However, if the design and shape of the nails are chosen incorrectly, this greatly spoils the harmony of the manicure.
Let us analyze what forms are. Almond nails are a timeless classic. They will be ideal for those who have to comply with a business dress code. Almond nail design looks restrained and noble. The pronounced oblong shape refers to the retro style, complementing it with a "moon" design for long nails.
Extravagant girls will be decorated with sharp triangular nails. With them you will look bright, a little "dangerous" and very confident. Nails with the design and shape of stilettos will not let you go unnoticed.
Square nails can be sharp or rounded. The so-called soft square is the closest to the natural shape of nails, so girls often choose it. Any design for square nails will be appropriate.
Glitter nail design
It's no exaggeration to say that almost everyone likes glitter nail designs! In the winter season, many girls make a choice in favor of a sparkling manicure, because it looks like New Year's and cheers up.
The fashion for glitter nail design is constantly returning, because new versions of shining nail art appear in the nail art.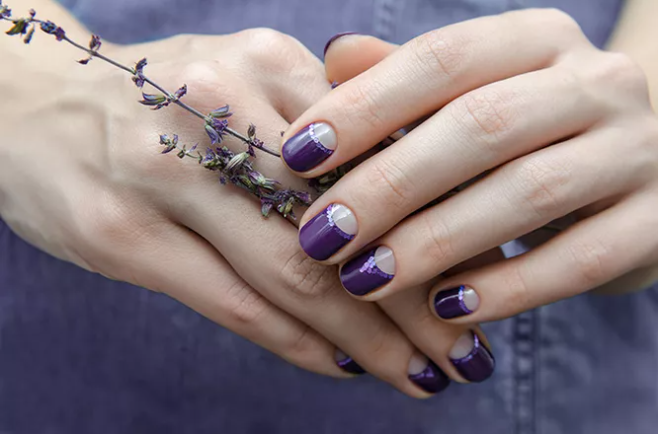 It is not difficult to make yourself a festive manicure yourself with the help of a coating that already has glitter. The nails look especially noble, in which the glitter shines delicately, giving the shade a mystery and depth.
However, you can opt for a disco glitter nail design, and then the largest, dazzling glitter particles are welcome. You can even create some semblance of a disco ball on your nails by decorating them with mirror plates.
Classic transparent rhinestones have left the top list of glitter nail designs. Today, girls choose more original solutions, such as mica, foil and rubbing.
Among the novelties in 2020 nail design, we want to highlight a combination of transparent areas (the so-called negative space) and glitter. Such a manicure looks light and airy, and therefore even a bright varnish and an abundance of sparkling elements will not overload it.
Yuki Flakes are one of the trendiest nail art trends 2020. They are pieces of fine mica that perfectly complement a coating of the same shade. Yuka flakes are not only great for long nails, they are also a great option for short nails.
Broken glass glitter nail design looks very original and is one of the brightest trends. This is a truly sophisticated option for those who love the mysterious crystal glow.
Nail design with rhinestones
Many ladies prefer the design of nails with rhinestones as an evening and wedding manicure. And although some consider it outdated and tasteless, today we will try to break this prejudice.
To keep your nail design with rhinestones stylish and elegant, the main thing is to observe the measure. Do not stick crystals over the entire nail plate – this will make the manicure ridiculous and overloaded. But a small scattering of small rhinestones or a couple of stones on several nails will come in handy.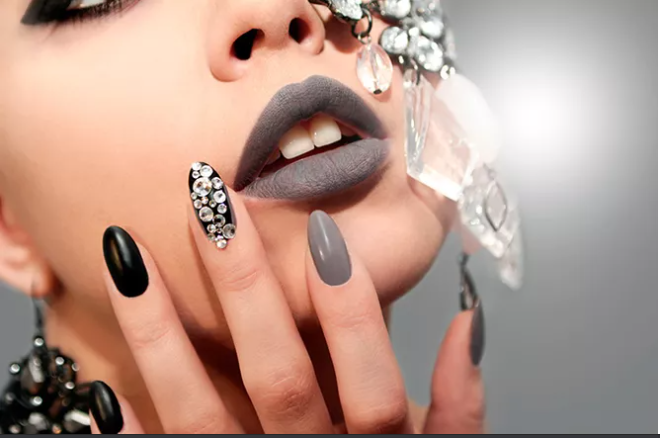 As an actual 2020 nail design, it is worth highlighting the reverse jacket, in which the strip at the base of the nail is lined with rhinestones. Nail stylists advise to decorate with crystals a maximum of one or two fingers.
The embodiment of elegance will be a beautiful nail design with pearls. As Coco Chanel bequeathed, pearls always adorn and give nobility. This decor is harmoniously combined with deep and complex shades of varnish: coffee, violet, royal blue.
We have already mentioned that the design and shape of nails should not "argue" with each other. Remember that sharp rhinestone nails are overkill. Crystal decoration looks much better on short to medium lengths of oval and almond shape.
Colors and shades of nail design 2020
Nail design in 2020 is an incredible cocktail of nail art fashion trends. Among them you will find ideas for manicure in any style. Glitter, rhinestones, drawings are included in the hit list of nail design – 2020.
Nail Design – Red
Red nail designs come in a huge variety of options. Today we invite you to consider the most stylish ones.
Classic solid red nails are a timeless manicure idea suitable for any occasion. You can diversify it by painting several nails with a creamy or beige coating.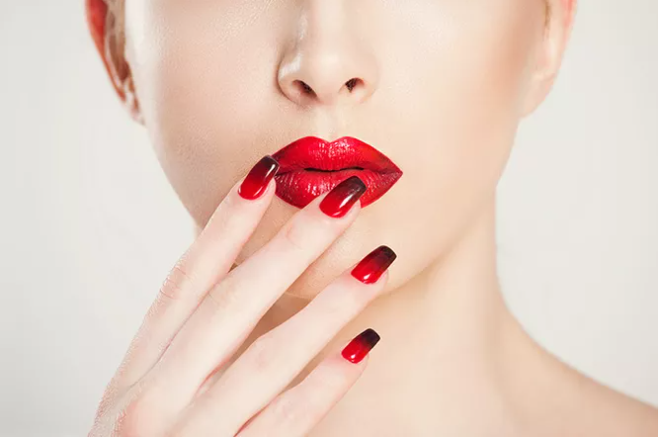 Gold glitter is simply created for red nail designs. Lay out the area of ​​the hole or cut of the nail with them and shine to the fullest! For a more subtle red nail design, go for thin gold stripes. They can create an interesting geometric pattern.
A few toes adorned with glitter nail designs are perfect for a red manicure. With it, your hands will look elegant. However, this option is not suitable for the office.
Red nail designs can be done in ethnic style. The red and white painting, which is a reference to fine Chinese porcelain, looks great as a design on long, rounded nails. By decorating several of them with mehndi painting, you will get a beautiful Indian style nail designs.
Nail design – black
The beauty of black is that it matches any outfit. At the same time, today black manicure is no longer considered a sign of informal, and girls who prefer completely different styles wear it.
New in nail design – 2020
A combination of matte and glossy coatings. This black decor looks amazing, especially in the form of a matte-glossy jacket.
Black and white manicure is always relevant. Black and white can form an interesting print or geometry. The most popular designs that you definitely can't go wrong with are stripes and peas.
Negative space in black will make you the most stylish. The combination of transparent areas and black lacquer looks very modern and laconic, reminiscent of futuristic architecture and high technology.
Nail Design – White
White is a versatile color that can be delicate, austere or serenely calm, depending on the chosen style of manicure.
White nail design opens up a lot of room for imagination and goes well with any length and shape. Solid white nails are perfect for those who like to wear bright rings and bracelets. Variations in white are the use of sequins, ornaments, blotches of a different shade.
White nail designs with glitters are always harmonious, because this color is an excellent base for any other shades and complex ornaments. Glitters of all colors of the rainbow and any metal inserts are combined with it.
For those who are confident in their taste, we advise you to try bold white nail designs with colored patterns and rhinestones. For example, singer Janelle Monet chose a white nautical-style nail design with anchor patterns and stylized flags, and did not forget to add a sparkle.
Nail Design – Blue
Blue has long been considered the color of monarchs and determined belonging to the highest caste, so blue nail designs always look royally luxurious.
What do the new nail designs 2020 offer us? First, a blue manicure with the addition of holographic décor. Several nails are covered with special powder and you get a unique blue nail design.
The combination of blue and white has already entered the "golden fund" of manicure. This is one of the most harmonious color combinations. With its help, you can create a blue nail design in the style of painting on porcelain, "sea" manicure, "Gzhel" or abstraction.
A regal blue nail design will turn out if you stick glitters and broths on several fingers. In this case, the main thing is not to overdo it and use sparkling elements in moderation.
Blue nail designs will shine with silver sparkles or pearls. If you want more color, go for a bright glitter. Pink, turquoise and lilac sequins are perfectly combined with blue nail designs.
Nail design – pink
The range of shades of pink is incredibly wide, and each of them has a unique character. The pastel pink finish does not conflict with a strict, calm image, it is perfect for a casual style and a work dress code. Fuchsia shade will invigorate and cheer up. One glance at such bright nails will help to distract from routine problems.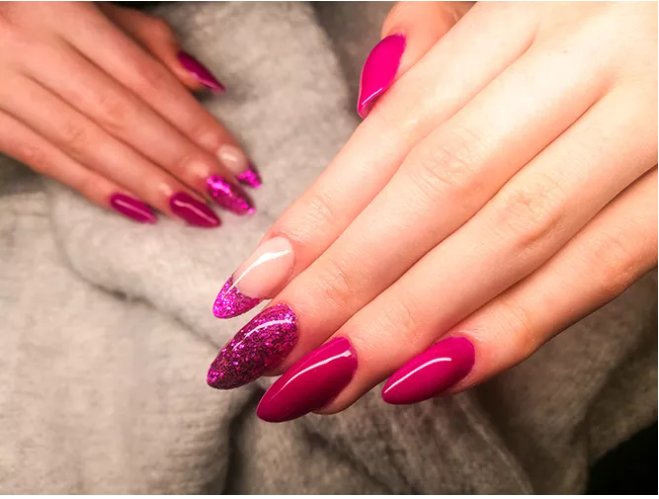 All types of decor are appropriate in pink nail designs. Gradient pink nail design looks great. A spectacular transition from delicate to rich pink will adorn your graceful fingers.
With pink nail designs, you shouldn't use many elements. Opt for minimalism. A "moon" manicure, a laconic pattern of dots and stripes, geometry or inscriptions looks beautiful.
Among the novelties of nail design – 2020, we were especially fascinated by the ombre from gray to pink. These shades form a beautiful duo, but it takes some honed skill and patience to create a manicure like this.
Nail design with gold
There are two main trends in gold nail designs: a uniform coating all over the hand, or a gold nail design on just a few fingers. You can endlessly admire the trendy gold nails with a liquid metal design. This luxurious effect is achieved using foil.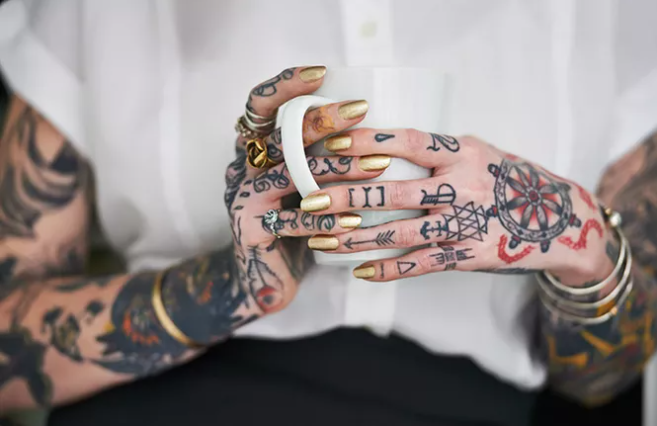 The design of nails with gold on a black background always looks gorgeous. A scattering of precious sparkles will add a festive mood to your look and create a spectacular contrast. This manicure will support your evening outfit and make you the center of attention.
In gold nail designs, unusual shaped holes are also welcome. Lay out a triangle at the base of the nail with glitter or a round, classic smile. And if you want something a little more original, pay attention to the beige nail designs with gold. Apply a beige finish and lay out a mosaic on your ring fingers with pieces of gold foil.
Light nails: design and shape
Light coatings are good because they fit any length and shape of nails. Short nails visually become more graceful, and long ones acquire a calm, restrained chic. If you add a design to light nails, you are guaranteed a unique manicure.
The design on light nude nails never loses its appeal. For him, choose neutral shades of varnish: beige, nude, pale pink, creamy. The main trick is to find a color that suits your skin, but doesn't blend in with it.
Light nails with rhinestones design have many design options. For a festive event, use large crystals, and for everyday manicure it is preferable to decorate only a couple of nails with small rhinestones.
Silver nail design
Speaking of metallic manicure – one of the hot trends in nail design – 2020, one cannot fail to mention silver decor. Silver nail designs will look good on any nail shape and will match most of your wardrobe items.
The minimalistic silver nail design looks restrained but original. For a laconic, simple silver nail design, use a black, white, gray or beige finish. Decorate your nails with silver stripes, create a sparkling spray or glitter French.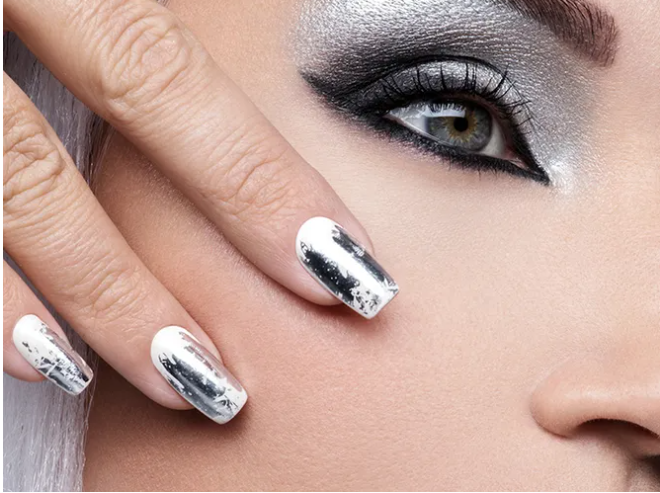 In the design of silver nails, we do not recommend using additional rhinestones or broths. This will overload your look and will definitely not add sophistication. It is better to choose strict geometry, "moon" manicure, a combination of matte and glossy textures as companions to silver decor.
Vikas Sudan is the SEO Manager at whisskers marketing, an United States digital marketing agency. An expert in Digital Marketing and Blogging, He never misses an opportunity to spread the knowledge and share the industry's best practices. Vikas Sudan is present on social media like Facebook, Instagram, LinkedIn, Pinterest & Twitter also.