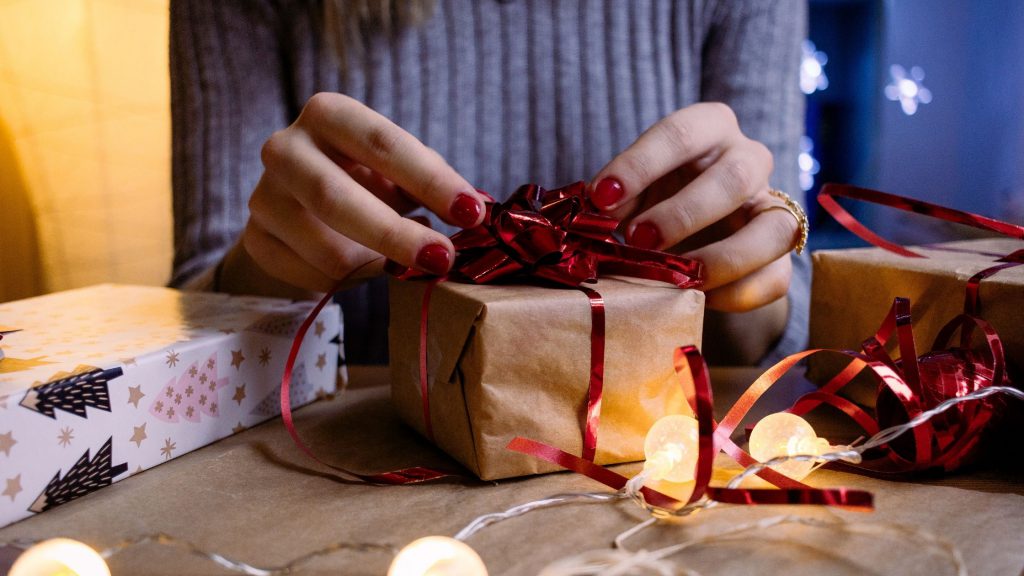 Our main happiness lies when we are the reason for the happiness of our loved ones. We feel good when they are happy and a big smile comes to their face because of us. It is a pleasure when you give them a gift with love. You can wrap your gift in a carton box. The gift shouldn't be big or small it should be given from the heart because your feelings are attached to it. So you will definitely want to remember your gift forever. Whenever he/she sees your gift, they will remember you.
You can give any type of your gift, but here it depends on which occasion you are giving and how you give it? You must have seen the gifts of nowadays, no matter how small, but its wrapping methods are very creative. In that way, the gift looks more beautiful from the outside and the joy of opening it increases further. I know you would love gifts that have beautiful wrapping from outside. I love those gifts too!
Well, as you know the Christmas season is going on. This season is my favorite season, at this time I'm waiting for good gifts from my family and friends. I'm sure you guys are also waiting too. Getting gifts is a good thing but giving someone a good gift is a big task. Sometimes you don't know what kind of gifts your loved ones want and if you are giving them, they will like it or not. 
If you are thinking like this then there is no need to think much because I will clear all your doubts about what kind of gift you should give to your loved ones this Christmas.
Colorful lace:
If you use colorful lace for wrapping, it makes your gift more beautiful. You can get a large variety of lace in the market. You must have seen that most of the lace is used in clothes. But there is also some lace that can make your gifts more attractive.
This lace comes in various materials like cotton, silk, wool, and viscose, etc. It all depends on you which or what type of lace you want for your gift wrapping.
2. Small Christmas Tree
As you know, the Christmas tree is the symbol of Christmas eve. We have a Christmas tree every year. So why don't we do something creative with our gifts by decorating a small Christmas tree with them?
After wrapping your gift with simple paper, take a small part of a Cypress tree that truly looks like a Christmas tree. You can cut it according to the size of your gift and attach it with hot glue. After doing this, cut the small paper and give a shape like a star to it, and add it to the top of the tree which looks more festive and attractive.
3. Christmas paper lights
At the time of Christmas, you must have seen that the lights are hanging on the roof or door. But today we will also put lights in our gifts. If you are thinking I'm talking about electrical lights then you guys are totally wrong.
I'm talking about paper lights which we can create from colorful paper.  What you have to do is to take any colorful paper and make sure that the color should be a light one then wrap it on the whole gift.
After doing this make a drawing on it like for example, a light stands from a black marker. Then cut the color paper in balloon shape and attached it to the light's stand with the help of glue. Now here are your paper lights ready to gift!
4. Jingle Bell Jingle Bell!
Jingle bell song is one of my favorite Christmas eve songs. Whenever I see the bells this song comes to my lips and I start singing. To give the Christmas vibes just like this, you can attach some tiny bells to your friend's gift which will look very creative and amazing.
If your gift is small in size, then you can put a couple of tiny bells on it, which looks super cute too. You can attach a color full roop or string that looks more classy.
5. Snow Spray
So these are the types of tips I learned in the school in my drawing class which I still like very much. After wrapping your gift, take a toothbrush and dip it into the white color and press its bristles in such motion like all the color will spread like snow on the gift wrap.
The best thing is that it is easy to do and also looks very beautiful. You can do this process whenever you attach any tree to your gift because by doing this your tree will get a snowfall effect and it feels like your tree is standing in the snow.
6. Ribbon Bow
Ribbon bow gift wrap can never be out of fashion and I like this one too. When I was younger, my father taught me to make bows in gift wrapping. Bows are made of many types; it depends on wanting the type of bow your want.
When you search on the internet, you will find a wide variety of videos, in which every kind of bow is told to be made. There are some bow strips available in the market which once you pull it and it becomes a gift wrapping bow and that's it.
Final Words 
Christmas is the festival of joy and happiness. Everyone eagerly waits for the month of December. And December means Christmas. With Christmas comes gifts. Gifts are a way of sharing joy. It can be anything, just should be given with the whole heart. When we wrap the gift, it shows how much we care about that person.
And how much we want to give the surprise to that person. Wrapping presents hides what is inside them so that it remains suspenseful to people. Surprising your loved ones is enough to make your Christmas the most memorable one. In the end, it all depends on your love for them. Merry Christmas!
Vikas Sudan is the SEO Manager at whisskers marketing, an United States digital marketing agency. An expert in Digital Marketing and Blogging, He never misses an opportunity to spread the knowledge and share the industry's best practices. Vikas Sudan is present on social media like Facebook, Instagram, LinkedIn, Pinterest & Twitter also.