It is essential to choose the right merchant account with an ideal payment gateway in India. Online selling platforms are rising for various types of business models such as eCommerce, social commerce, EdTechs, IT, etc. People prefer to pay with online payment modes and this applies to both online as well as offline purchases.
With so many options available, it creates a dilemma as to which one is the best and the one which is perfect for your business payments?
PayKun payment gateway has emerged to be the best payment gateway in India among the other options available. This blog provides its features and guides you to get its merchant account.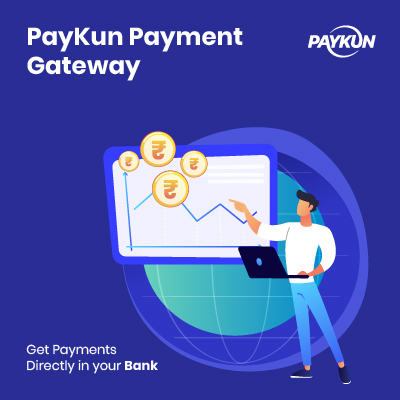 Why is it necessary to be careful in choosing the payment gateway for your business?
Before discussing PayKun Payment Gateway, let us know some of the points of the importance of choosing the best payment gateway for your business-
The payment gateway is the face of your business. Customers' trust builds or breaks at the checkout page. Thus, it is essential to select a gateway that is reliable and reputed. Reliability includes security, support, and services.
The payment gateway charges various types of fees, the primary one is a TDR (per transaction fee). Others are setup fee, maintenance fee, integration fees, etc. Thus, it is vital to make sure that you choose the most cost-effective gateway for your business payments.
The major advantage of using a payment gateway is that you can provide multiple payment options to your customers to make the payment with their preferred one. Thus, the modes of payment provided by the payment gateway in India should match your customer's preference and demand.
One of the most important aspects is the security of the sensitive data and the funds processed. The payment gateway you choose must adhere to the necessary compliances.
With the money in question, it is very important that you can communicate with your payment gateway and its support services are highly responsive.
Concerning the fees, records, settlements, etc, your payment gateway must render transparency.
The best payment gateway in India in 2022 – PayKun
PayKun is an ideal solution for business online payments. It discusses and understands your needs and provides a customized solution.
Here are the points of benefits to convince you to choose PayKun when looking for a payment gateway in India.
Lowest Fees
It has the lowest TDR in the market for domestic and international payments.
The setup and maintenance fees are zero. To be specific, there are no extra fees.
Best Support Services
PayKun provides all types of support services to customers and merchants such as general, payment, technical, etc. You can reach out to them via chat, email, and call.
It also assigns a dedicated account manager to each merchant account. They are reachable through email, call, and WhatsApp.
Reliable, reputed, and secured
PayKun has gained a lot of popularity in a short period. It is considered the best among all types of business including SMEs, large enterprises, NGOs, etc.
Its smooth checkout process with a user-friendly interface gains the confidence of the customers and keeps up with the reputation of the business and further increases the same.
PayKun is PCI DSS compliant and follows AES encryption standards that enable end to end encryption. The SSL secures the connection between the server and the browser. All in all, it is fully secured.
120+ payment mode options
It supports all major debit and credit cards, wallets, net banking, UPI, QR code, and also EMI. International customers can make the payment via all major international cards. PayKun supports 29+ major currencies and all major countries.
Transparency
PayKun merchant dashboard is a smart power tool that enables reporting, analysis, and graphical representation. It helps in managing, handling, and control of your PayKun transactions and related functions.
It provides clear data and reports that make transparency possible.
Other important features of PayKun includes-
The fast and smooth online onboarding process
Easy integration to website and app
Free integration assistance
Ready technical documentation guide
Ready plugins and SDKs
Payment Link to accept payments without a website or app
Customized pricing plans
EMI payment option
How to get the PayKun merchant account?
This is easy. Here are the steps-
Sign up with basic details and try the test mode
Submit required details and documents
The account gets verified
The account is activated after successful verification
Conclusion
This Payment Gateway in India, PayKun, is designed and developed to enable your growth and give ease and convenience for your business payments. Contact and take your first step towards your payment partners and they will guide you in the rest. Get in touch now at support@paykun.com.
Vikas Sudan is the SEO Manager at whisskers marketing, an United States digital marketing agency. An expert in Digital Marketing and Blogging, He never misses an opportunity to spread the knowledge and share the industry's best practices. Vikas Sudan is present on social media like Facebook, Instagram, LinkedIn, Pinterest & Twitter also.