Not every fireplace is a wood-burning model with a traditional facade. Times have changed and are ever-changing, and the traditional aesthetic does not mesh well with every single interior.
Because of that, there are many modern solutions for interior design, and among them are linear gas fireplaces. If you're kicking around the idea of setting your home up with a large model like a 60-inch linear gas fireplace, here are some good reasons to do so.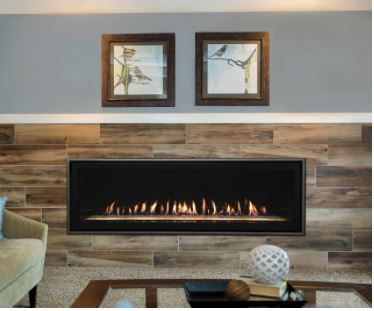 1.More frontage
Probably the number one reason that a 60 inch linear gas fireplace could make a good investment is because of the extra frontage it will offer a setting.
Linear fireplaces in general offer a spectacular amount of frontage, which is valuable not only for adding a modern touch to your space, but also improves a setting for entertainment.
For better or for worse, people gravitate towards fireplaces, and the more space you can offer for congregation, the better. A large linear fireplace does this better than most.
2.Great ambiance
Although there are probably a lot of fans of electric fireplaces, including linear electric fireplaces, there are some who will argue that you simply can't top the ambiance of a real fire. Electric fireplaces are great, but if you're one of those traditionalists, a gas model will merge some of the old school timelessness of a wood fireplace with the modern functionality of an electric fireplace.
A natural gas fireplace with a modern lighting system will give you a lot of the control of an electric fireplace while at the same time still affording you the visual allure of a real flame. Plus, you can still get them to work during a power outage, which you can't do with an electric model.
3.Customizability
The other thing about some linear gas fireplaces, like other linear fireplaces, is that they can be accented with ceramic log sets, reflective crushed glass media, stainless steel or matte black trim kits and more. You can set the tone of your design with the add-on features of a fireplace without even lighting one!
4.Better control
The other thing about a gas fireplace (as opposed to a wood burning fireplace) is that a gas fireplace gives you the ability to control flame height and brightness very quickly and effectively. Some models can even be managed by a remote control.
5.Create a more modern look for your home 
A linear electric fireplace, with its modern and sleek fireplace opening (or enclosed glass space) is also helpful for giving your home a more modern, updated look. Some of them can be accented with ceramic, glass, tile, stone and other elements, along with LED lighting and more.
6.Good news – it doesn't have to be a 60 inch linear gas fireplace! 
If a 60 inch model is too large for your home, then keep in mind that you can always go with a smaller model. The companies that produce these fireplaces typically make a number of models available and in quite a range of sizes, so there's something for every setting.
More good news, if you're interested in a linear fireplace for your home but aren't sold on gas, is that it doesn't need to be gas. If you want to investigate some options in linear fireplaces, a good place to start is with the collection at Embers Living, on BlazingEmbers.com. There you'll come across a collection of linear fireplaces not only in gas but also in wood and electric configurations.
Feel free to visit their website via the link above and don't hesitate to reach out to their customer service team if you want to learn more or have outstanding questions. They can be reached at 303-800-5659 any time you want to learn more.
For more information about Built In Bbq Grill and Superior Gas Fireplace Please visit: EMBERS LIVING.

Admin of DigiTech Worlds. Only fresh and unique content posts are allowed. Love to share informative, engaging, and helpful content with users. For more info please visit the contact us page.