An employment agreement is a contract that states all the terms and conditions of employment while any business is hiring a new employee.
It is used for all types of employment, including full-time, part-time, and employment on a contract basis. Every detail of the job, company, and everything else is laid down in this document.
The contract legally binds the employer and the employee. It also lays down the details of the employees' roles, job descriptions, job responsibilities, remuneration details, and responsibilities towards the company.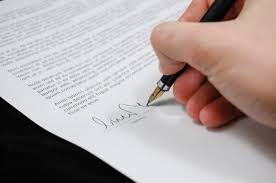 Once the employee agrees to the terms and conditions mentioned in the employment agreement, all the provisions and the grounds of the work will be legally binding to the employee.

Some probable points and conditions mentioned in the employment agreement include salary breakup, joining date, notice period, and non-compete clause.
It not only removes any chance of liability from the company but also cements the trust between the employee and the employer.
An employment agreement also acts as a piece of evidence in case of any conflicts between the employer and employee that arise when one of them violates the terms of the agreement.
Read More:
Some provisions of the employment agreement
An employment agreement is simple enough to create, however, some key aspects need to be taken into account while formulating such an agreement.
1. Statement of parties:
The agreement must state the parties involved, that is the employer and employee. The name and address details must also be included in the agreement.
2. Designation and job description:
The agreement should have a clear description of the job and designation. This would also include the roles and responsibilities for which the employee is liable.
3. Remuneration:
The employee agreement should have all the remuneration details that the employee would receive in return for his or her services. The salary breakup needs to be shown clearly.
4. Reimbursements:
Provisions must include any reimbursement that the employee would receive, like travel expenses.
5. Leaves:
This includes the number of paid leaves an employee is entitled to, for example, one paid leave per month. There should also be a provision talking about unapproved leaves.
6. Confidentiality
This clause is included in the agreement to make sure that no confidential information or trade secrets belonging to the company are disclosed by the employee to anyone.
7. Termination of employment:
The employment agreement must also state the events and procedures of termination of employment in the organisation.
The disciplinary and legal actions that can be taken against the employee in case of any breach of the agreement should also be mentioned.
Some other optional provisions that may or may not be included in the employment agreement can be probation period, a list of holidays and ways to solve grievances.
Once you have every required provision in the employee agreement, it is good to go. For advice or help relating to employee agreements, you can contact the experts at Vakil Search.