Check how to connect two monitors to a laptop – When it comes to working on laptops, they may the perfect choice for working on the spot. However, its screen is relatively small, and therefore, many professional gamers, graphic designers, business owners, and programmers find it a big hindrance. Connecting multiple screens gives you the space to do the delicate work and helps you manage your work without much pressure.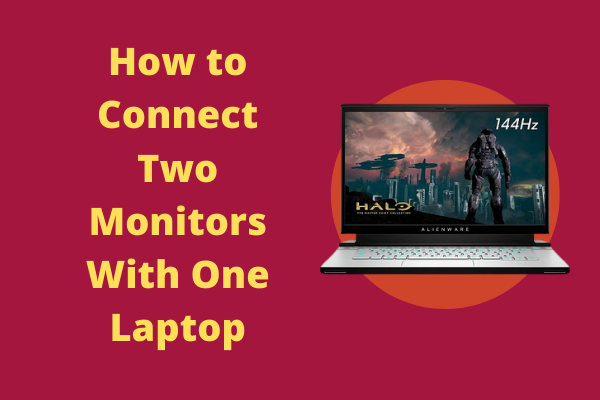 The Best Solution: Thunderbolt
If you ask for the easiest way to connect the two or more external monitors then you won't get more easy way than this one. Use Thunderbolt 3 to connect multiple monitors as it is considered the modern way of connecting multiple screens to your laptop.
You will need a USB Type-C port in order to utilize this option. It only requires a single cable to handle videos, audio, sound, file transfer, data transmission, and visuals, simultaneously. The process is quite simple; you will just have to connect each screen with a Thunderbolt 3 port. All you need is the concerned hardware components.
The external video output ports are helpful for those who need to create virtual machines.
For them, each machine will be completely a laptop, unlike one laptop with multiple monitors.
Thunderbolt 3 alternative: Use Display Splitter Box
You would know that not every laptop has Thunderbolt or USB-C connection. Therefore, you will have to look out for an HDMI, DVI, or DisplayPort port on your machine. These ports will let you use an external screen. However, the issue is that you will not be able to connect more than one external monitor to your laptop.
So, you will have to use dual- and triple-head docks which will allow you to connect multiple screens at once. In this way, the connection of more than one external screen is possible. All you will require is a single video cable that would transfer all the data.
Nevertheless, you have to keep in mind that by using this solution, you will probably not get the best of the graphics as this method affects the graphics with great impact. Plus this method is also expensive.
A more cheap and Easy solution: USB Adapters
If you think that the above solution is too expensive, go for USB adapters. It is a much better and easier solution that will also lower your financial burden. However, if you have outdated laptops, this method won't work as the old machines are not really designed to support these kinds of options.
Nevertheless, the USB adapters will help you convert the USB port into another port that will let you connect to another screen. It is advisable to not apply this method unless you have properly researched this method or all your hard work will go in vain.
The Docking Stations Option
The docking stations are the best option for gamers and graphic designers as they will let you use multiple screens without affecting the overall resolution of the screens as this solution provides better visual quality without much screen tearing. It has minimal setup; the docking stations equip you with a lot of options from USB-only option to expansion dock model option which has a lot of flexible ports.
Things you need to do before starting the process.
Before starting the proceedings there are things that you need to check beforehand so that the process is smooth and without any loopholes
Nowadays, you will get laptops that easily allow using two monitors. However, it is paramount for you to see that whether your machine has enough firepower to back dual monitors simultaneously. Honestly, it depends on the OS, graphics card, processing power, drivers, and some other factors. First, you need to make sure that you have Microsoft's Windows OS. If you have Windows XP, whether it is 7,8 or 10, then everything will be done smoothly as they can supply power to multiple monitors. Now, you just have to look at the other features such as GPU and ports.
Have a glance at your GPU
It is important that your graphics are powerful enough to support multiple monitors. The problem is that when you connect multiple monitors with your laptop, the graphics of the screen tend to fade away, and resultantly you have to work on a screen with a poor display. However, most of the graphics cards support at least two monitors, but a few cheap GPUs don't even allow that. In order to get the full information of the GPU, go to the manufacturer's website, and check whether your graphics card can support multiple screens at once.
Now, if your graphics card cannot support multiple monitors, you will have to buy a new and better GPU to keep the process going.
Make sure that enough ports are available
It is important to check the number of ports available on your laptop. You will notice that your laptop has at least one out of the following ports.
Display Port
DisplayPort will pretty much the same as HDMI. However, they have different purposes to fulfill. The former is used in PCs to provide high-quality video and high definition audio content protection.
Digital Video Interface (DVI)
DVI is designed by the Digital Display Working Group (DDWG) and can be used for connecting many screens at once. There are three types of DVI connections that serve different purposes.
Video Graphics Array (VGA)
VGA is another name of a display monitor that you will see is used in most personal computers. It is considered the best alternative to HDMI ports
High-Definition Multimedia Interface (HDMI)
Known as High Definition Multimedia Interface, HDMI is considered a very important port on the laptop as it helps you provide high-quality videos and audios with ease. Check whether your laptop has HDMI ports, if yes then everything will be manageable.
All of these ports will be either on the right or the left side. Keep in mind both laptop and monitors should've equipped with either of these ports or things will get quite tricky as it will ensure that your money and time both are saved.
Final Thoughts on how to connect two monitors to a laptop
There are times when you need more than one screen to do your work. Therefore, a single screen of the laptop won't do the job for you. Therefore, you will have to switch to multiple screens as it offers you more space and room for performing delicate work.
Guest Blogger. Digital Marketing Specialist. 8+ years of experience in SEO, SMO/SMM, PPC, ORM, and YouTube.