Hosting is the most popular term in the internet world as there are several choices available. When you decide to start your own business or personal site, blog or any other web-based project then Linux based hosting is the perfect solution for you.
What is Linux Hosting?
In simple words, Linux Web Hosting is a type of hosting service in which Linux is used as the host operating system. Basically, Linux is a Unix-based operating system that is available as free of cost open-source platform. It is developed late in 1991 as a free OS, especially for Intel x86 powered computer systems. Since 1991, it became more popular as one of the best open-source operating systems in the hosting world.
What is Linux Shared Hosting?
Linux shared hosting is the form of shared hosting where the websites or blogs use the Linux based operating system. In shared hosting arrangements, a web hosting provider allots a single web server for many websites where each and every website have a limited amount of computing resources such as CPU power, Data transfer, RAM, webspace, etc. This type of hosting suits a business or organization that has less amount of traffic and visitors and always available at the cheapest rates.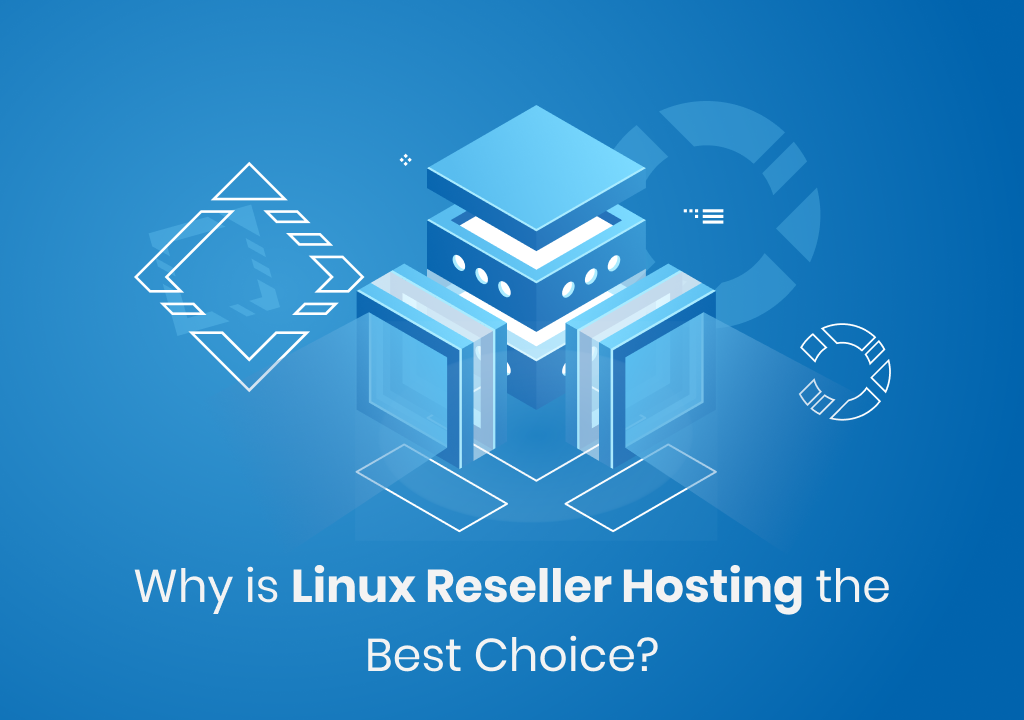 Why is Linux Shared Hosting the Best choice?
Linux shared hosting is an alternative to windows shared hosting. If we talk about windows shared hosting then there is nothing wrong with windows shared hosting but Linux Shared Hosting has already become the best choice for numerous webmasters. Nowadays Linux shared hosting is one of the most preferred choices for website owners for several causes.
The big reason to use Linux shared hosting is that it supports all languages such as PHP, Python, Ruby, Perl, and more which are mostly used by professional webmasters. It is a more reliable and well-recognized option among all the hosting. It also offers you more attributes and features that can easily be utilized free of cost in comparison to windows shared hosting.
What is Reseller Hosting?
If you want to start your own web hosting business then Reseller hosting is the best solution for you. Reseller hosting is not much expensive for new entrepreneurs or start-up businesses. It is easy to manage the branding through WHM control panels in Reseller Hosting. In reseller hosting, web hosting service provider acts as a wholesaler for resellers and provides space on their servers for them.
Why Linux Reseller Hosting is the best choice?
As we've discussed earlier, Linux is compatible with MySQL and PHP and it also offers optimal speed and performance. It has been also proved that the hardware and software used in Linux Reseller Hosting are dependable. A Linux Reseller Hosting service gives you lots of benefits, which are described below. Just have a look at the benefits of Linux Reseller Hosting.
1. Security:
In this online world, you can open up to a security breach. Hackers can easily attack your website and steal your valuable information like personal and financial. For this, you need to understand what kind of attacks you can face and how your hosting provider will solve them. The Linux Reseller hosting India offers some of the best reliable ways to secure your data. Also, if your website is based on PHP then Linux is ideal.
2. Customization and Control:
If you want to customize your site or have any admin access then Linux is the best option for you. Although Linux and windows both provide you customization options, Linux boasts of more features. This is useful for admins and developers who want more control. For example, if you buy Linux Hosting, you'll get a tool with it like cPanel that will help you to manage your website. It can help you with the maintenance of your site and can manage disk-space. It can also help to make regular backups without any assistance from a trained administrator.
This icon-based control panel also provides you all those features that you need to set up your website. In reseller Linux hosting, you have the advantage to install the applications according to you and you can choose any software for your website with just a few clicks. It allows you to create multiple databases for your website. You can also manage multiple domains and create new email accounts for your business purposes through Linux reseller hosting.
3. Cost-Effective:
If you are a web hosting provider then Linux Reseller hosting can work as a cost-effective solution. Setting up your website with Linux Reseller Hosting is a more economical option. You don't need a larger amount of funds to set up and operate Linux because of its open-source nature.
4. Compatibility:
In this online world, the customer is virtually drowning in the mass of websites. So in this competitive world, you need to be varied and different to make a niche for yourself. For this, you can choose Linux which allows you to use a wide variety of apps like Joomla and WordPress. Linux is the best choice to boost your website with blogs, e-commerce, and many other features. Unlimited Linux Reseller Hosting gives you the permission to install more applications due to its open-sourced nature. Because of its high compatibility factor, it also ensures that these apps will run smoothly.
5. Multitasking:
Linux optimizes on disk space when gives you optimum performance. This means that you can easily run multiple applications at the same time without having any interruption.
Use of Linux Reseller Hosting
There are lots of advantages to choosing a Linux Reseller Hosting Package. Linux provides you a user-interface that is entirely command-line based. Linux offers several advantages in terms of scripting that means it has the ability to write programs and scripts in different languages such as Perl, PHP, and Shell. You can easily manage automation jobs and files and create CGI scripts through Linux Reseller Hosting.
When we talk about configuration changes or configuration mishaps, Linux is the one that is more forgiving and stable. Because whenever a configuration update is made, you don't need to reboot a Linux system to make it effective. Linux is not bounded to a particular graphical user interface, because of this it works as a robust platform for multi-process environments. Linux supports the most popular web applications such as WordPress and MySQL.
When you want to host a Microsoft Access or a Microsoft SQL server database then 2GB Hosting is the best Linux Reseller hosting option to go with.
Guest Blogger. Digital Marketing Specialist. 8+ years of experience in SEO, SMO/SMM, PPC, ORM, and YouTube.