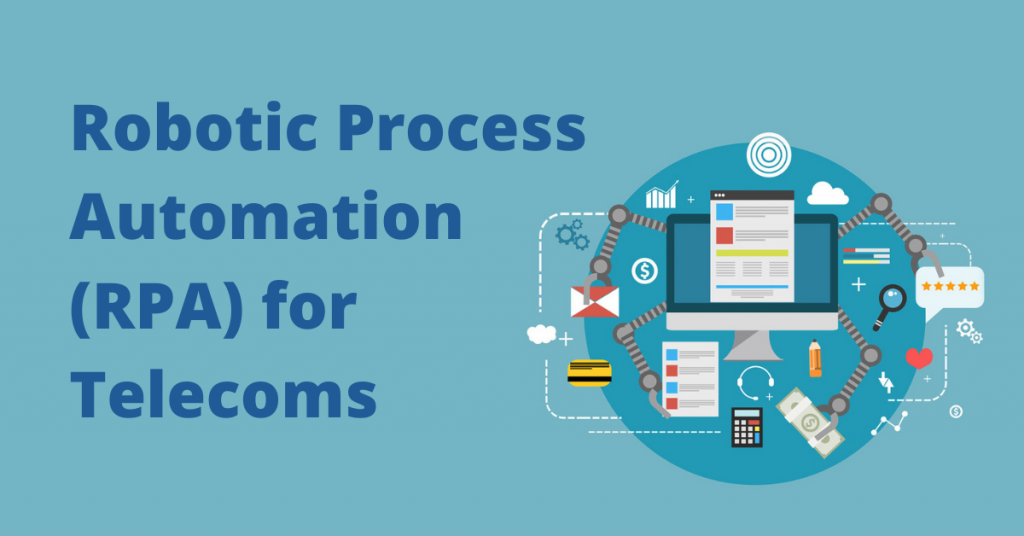 The telecom industry has a huge number of customer engagements and transactions that can be time-consuming and error-prone when performed manually. Robotic Process Automation (RPA) is a business automation technology with built-in cognitive capabilities, such as artificial intelligence (AI) that will help extract data from multiple sources and put it in a usable, actionable format. RPA helps streamline manual, time-consuming processes such as billing, financial reconciliation order fulfillment, etc., thus adding value to the services offered by a Telecom Service Provider.
The Telecom industry is dynamically changing with advanced technologies and this has led to an increased interest towards RPA to automate processes for optimal efficiency. A business-critical process in the telecom industry such as service assurance, billing, revenue management are manual and can be error-prone leading to unhappy customers and revenue leakage.
There are several benefits of Robotic Process Automation, some of them are listed below:
RPA extracts and validates key information from every customer communication helping telecoms with enhanced support for both digital and human optimal efficiency.
RPA is used to extract data, and suggest responses to customer service representatives helping them respond better to customer queries.
RPA helps maintain and update billing records of customers, and reconciliation across multiple stakeholders in a timely manner while minimizing errors.
With every stakeholder in control of the real-time information, they can serve the customer in the best way across all touch-points.
RPA allows TSPs to create reports that enable better insight-driven action.
RPA allows BOTS to understand and respond to customer queries most efficiently thus leading to improved customer experience.
To sum up RPA offers a host of benefits for TSPs:
Telecoms can reduce repetitive tasks
Improve efficiency with better decision making
Reduce costs and improve CX
Streamline customer account management
Deliver better customer center experiences
Minimize customer wait times and
Reduce errors
RPA – and the telecom industry
The telecom industry is increasingly competitive. Too many players, a huge subscription base, a plethora of offerings, and the ever-demanding, the hyper-connected customer. The customer is spoilt for choice and this is extremely challenging for TSPs. Here is where the use of Robotic Process Automation in the telecom industry can be the game-changer.
Some of the challenges that the telecom industry faces are:
Laborious tasks that are time-consuming- the massive amounts of data need a human intervention that takes time, efforts and can be a deterrent to productivity.
Costly- the multiple software and hardware costs, ensuring data security, and large employee base to handle the work can be a huge operational expense.
Prone to errors- The massive data and handling all of it can be prone to errors, misrepresented numbers that lead to customer dissatisfaction.
RPA in Telecom
RPA is the perfect answer for TSPs as they automate multiple repetitive organizational tasks. The use of software robots helps digitalize invoices, help with email generation, and other maintenance works allowing employees to focus on better revenue generation activities.
RPA allows for a seamless omnichannel experience as customers constantly shift channels and a whole lot of rich insights is constantly being transferred between apps, devices, and users.
With RPA based software robots, TSPs can be rest assured that they will respond to simple queries, interpret emails, while complex queries will be redirected to the call center so that they can serve the customer and ensure enhanced customer service.
RPA powered software bots can help transform huge amounts of data in different formats into a structured and uniform format.
Furthermore, RPA and Artificial Intelligence (AI) helps telecom providers with predictive insights based on customer preferences, behavior, and datasets.
RPA technology enables bots to access information and assist the call center agents to address the high volume calls from customers with accuracy and without having to do follow-ups.
To conclude, RPA brings with it the much-needed customer retention and loyalty for telecoms. It has to be noted that businesses today operate in highly dynamic environments and the ones that adapt stay ahead of the game.
If you are looking at solutions that can automate your processes, reduce claim leakages and improve performance then get in touch. To learn how Intense Technologies can help your enterprise create the much required great first impression, ensuring a better & enhanced customer experience, email us at internationalsales@in10stech.com or visit our website https://in10stech.com/.
Robotic Process Automation solutions


Guest Blogger. Digital Marketing Specialist. 8+ years of experience in SEO, SMO/SMM, PPC, ORM, and YouTube.