Not every home needs a furnace, but those that do won't be able to get away with an electric heat strip or a heat pump as an alternative. For those that live in cold climates, oftentimes a furnace is a matter of necessity. Moreover, for those that live in particularly cold climates, a two-stage furnace might be an even better option. If you're looking for a Rheem gas furnace and your climate necessitates it, here are a few things you should know and consider before making a furnace.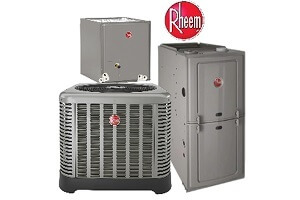 For one thing, there are two stage furnaces out there, even two stage Rheem gas furnaces, that may be able to build a little efficiency back into what would otherwise be a serious fuel burner. To be fair, furnaces do chew up a lot of fuel, even the efficient ones, but a two stage model might be able to save you a little.
They're pretty basic in their operation. When it's not too cold out, but you still need heat, they operate in the 'lower-output' setting, so they still provide warmth without chewing up too much fuel. When it gets very cold, they operate in the 'higher-output' setting, which, though it burns more fuel, provides more heat. This can be controlled or manipulated by attention to temperature and settings.
In addition to that, you should know you'll be getting a deal with a Rheem furnace on other fronts that you didn't expect. That means that while a gas furnace is a good idea in cold climates, a Rheem model can add more to the deal across the board.
For one thing, Rheem furnaces are tough, even though they're designed and intended to be housed indoors. Many of them are made with a powder-coated finish to resist corrosion and last for many years. Some of them are even rated to resist salt-spray, which is an amazing asset in a furnace. It might be more desirable in a condenser for an air conditioning system, but it's still valuable in a furnace.
Some Rheem furnaces even come with control boards that display the system's self diagnostics, which are perfect not only for homeowners who need to know what is going on with their furnace but also for any technicians who would come along to make repairs. Some of them even store the last few diagnoses so you can get a quick history of what's going on.
In addition to the energy efficiency that you can sometimes gather through two-stage furnaces, some of these models come with a low constant fan that can be activated to circulate heat throughout the home, making these even more cost effective, in accordance with their Annual Fuel Utilization Efficiency Rating (AFUE rating).
If you want to learn more about what gas furnaces include, or more about furnace features, visit BudgetAirSupply.com today. There, you'll find a wealth of gas furnace models from Rheem and other manufacturers, along with HVAC systems for heating and cooling from many makers. Whether you're looking for an air conditioner to keep the summer temps down or a high-efficiency gas furnace to keep the winters warm, you'll find them at Budget Air Supply when you visit their website. Otherwise, call them at 855-473-6484 to learn more.
For extra details about Packaged Air Conditioner and Air conditioners suppliers Please go to Budgetairsupply.
Guest Blogger. Digital Marketing Specialist. 8+ years of experience in SEO, SMO/SMM, PPC, ORM, and YouTube.