Munich is the capital of Bavaria and Germany's third-largest city. Earlier, it was a monetary, grown into a settlement and now established as a famous holiday destination, attracting millions of travellers every year. The city is home to ancient and contemporary buildings, incredible museums, beer halls, rugged gardens, the zoo, parks, unique markets, art galleries, churches, and stunning attractions. Moreover, the city is widely famous for its annual Oktoberfest festival and some of the major highlights, including Hofbrauhaus and Neo-Gothic Neues Rathaus (town hall).
The focal point of Munich is its rich cultural and historical heritage, represented in the form of an extraordinary number of museums and cultural sites. Other than this, there are beautiful parks and gardens where people stop to relax under an expansive clear blue sky and greenery all around. The seasonal events or festivals organized based on the cultural calendar are another major highlight to not miss in the family-friendly city.
Best Places to Visit in Munich
With the handy list of a few popular and exciting places to visit in Munich, travelers can make the best of the trip and leave the place with lots of happy and unforgettable memories.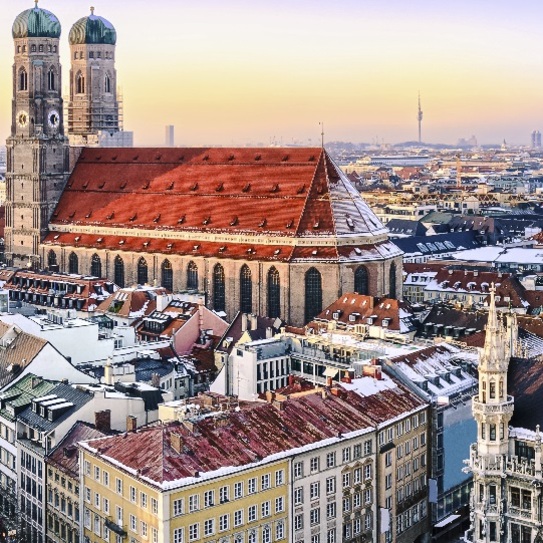 Marienplatz and the Neues Rathaus
The site is one of the incredible places to visit in Munich and is also considered the central square since the foundation of the city. The one side of the massive structure is covered by Neues Rathaus or New City Hall and Altes Rathaus or Old Town Hall forming the main gate.
There are some unique shops, boutiques, restaurants, and other shoppers' spots around the site. Moreover, Marienplatz is the focal point of annual festivals or events and the large Christmas market, which you should not miss exploring while in the city. You can watch Narren-Lindwurm dancing over the central square at the time of the incredible Fasching Carnival. The opening time of the beautifully built building is between 11:00 am till noon and 5:00 pm from March to October.
BMW Museum
Munich is packed with incredible museums, and BMW Museum is one of the famous ones of all. It is a great place for car freaks who can find an extraordinary variety of cars with different models, colours, and sizes, from racing cars to traditional functional vehicles. One can find current car models and get to know about modern technology, car manufacturing, and its designing process. Non-car lovers might not find the place fascinating, but they will indeed find something informative and interesting. Get ready for insane exposure and an incredible family getaway by making a United Airlines booking.
The Englischer Garten or the English Garden
There is no shortage of lush green parks and gardens in Munich, and the English Garden is the finest example of authentic beauty and charm. Many people might not know, but it is one of the largest parks in Germany, covering an area of 910 acres of land. The trees and plants are naturally arranged in the park, and there is one artificial lake in the garden, which instantly lighten up the atmosphere and charm of the site.
The park was first designed in 1785 as a military garden, later turned into a relaxing spot and named the English Garden. Many joggers, runners, fitness freaks stop to see the pleasant garden and do exercise on the pathways of around 78 kilometres. You can even arrange a picnic and enjoy quality time with family or friends.
See More: Things To do in Lancaster
Tierpark Hellabrunn Zoo
Tierpark Hellabrunn Zoo is one of the best and top-ranked zoos in Europe, spreading across 89 acres of land. It was first established in 1911, and at that time, it was the world's first zoo featuring animals in a group based on their origins. In today's date, the zoo is packed with around 19,000 different animals, including gorillas, elephants, giraffes, wood bison, Arctic foxes, elk, silvery gibbons, and rare drill and 757 species kept in an open environment to share their habitats and stay together. In 2014, a population of around 2,283,739 people visited the zoo.
The main highlight of the zoo is the Elephant House, a top-ranked building in the modern age. One can find alluring playgrounds, footpaths, and recreational areas. If you are travelling with dogs, you can also bring them to the zoo as the authorities grant permission to bring dogs to the site. You can be a part of endless fun and adventure in Munich by making Jetblue Booking in advance and get exclusive discounts and perks on their family-friends vacation packages. 
Also Read:
I am a traveler and I always share my experience with the help of my blog. I am running my travel blog. If you need to know anything about flight tickets booking, then contact me.